Puppies 12 weeks
11.06.2013 20:21:59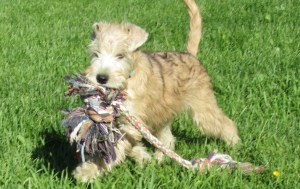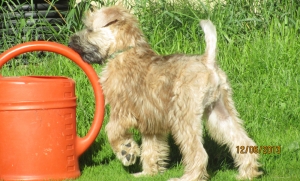 Today the puppies had their first vaccination.
The vet. also thought they have a wonderful temperament.

Tänään pennut saivat ensimmäisen rokotuksen.
Eläinlääkäri sanoi, että pennuilla on ihana tempperamentti.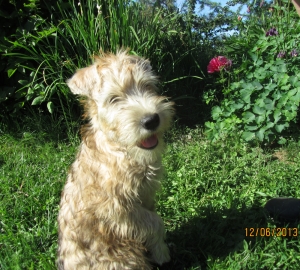 Tuuri Group 09.06
10.06.2013 22:49:13
Käväistiin Tuurin ryhmänäyttelyssä
sisarusten Bella Donnan ja Bandyn kanssa.
Tuomaroimassa oli Pirjo Hjelm.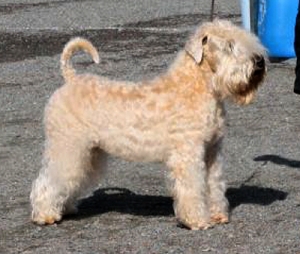 CH Von Jungfruborg Banditos "Bandy" PU3/ BD3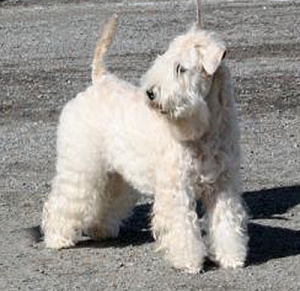 CH Von Jungfruborg Bella Donna "Daisy" PN2/ BB2

Kuvat: Esa Tikkamäki
Summer Greetings
01.06.2013 11:49:44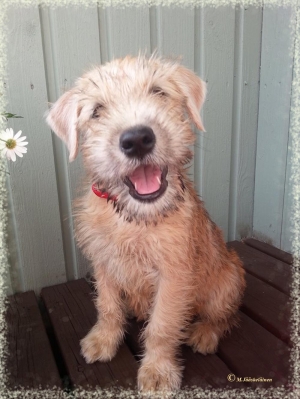 Kuva: Marjo Jääskeläinen


This happy lady "Maisa" wish you all a great summer!
Hymytyttö
Maisa
(Von Jungfruborg Golden Two Treasure)
toivottaa kaikille hyvää kesää!
Two promising malepuppy
30.05.2013 11:20:59
There are two promising malepuppy available.
Born 19. March 2013.

Det finns två lovande hane valpar.
Födda den 19/3 2013.
Vapaana 2 lupaavaa urospentua.



Von Jungfruborg Golden Two Secret



Von Jungfruborg Golden Two Mystery

Sir: DOG ROSE GOLD GARIBALDO
MultiCh, C.I.B, NORD FIN, SE, NO, EE, LV, BALTW-10
Best In Show Wheaten Terrier 2011,
Best Wheaten Terrier male 2011
Many successfull offsprings.

Dam: LAKKAS FIESTA HOS JUNGFRUBORG
Multi Ch, C.I.B. NORD, FI, SE, NO, EE CH
#2 best wheaten female 2011 in Finland.
The first litter (Golden) CC winners.



Von Jungfruborg Golden Two Fantasy "Aramis".
Owner: Elina

Puppies 10 weeks
29.05.2013 10:45:03
Summer is here!!!
Puppies are 10 weeks now.
"Aramis"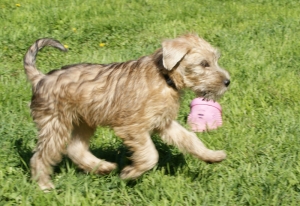 VJ Golden Two Secret "Elvis" and mother -Fiesta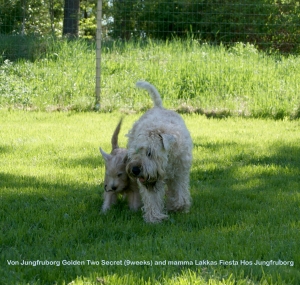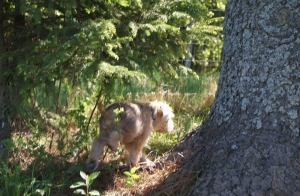 VJ Golden Two Mystery "Marski"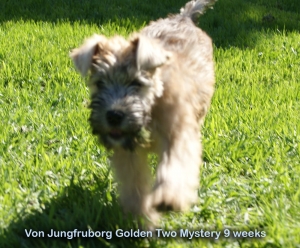 "Elvis" and daddy -Tyson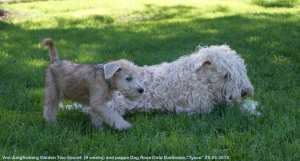 Tyson and Aramis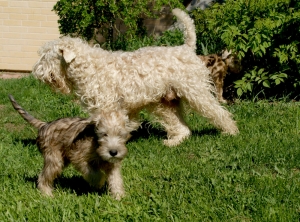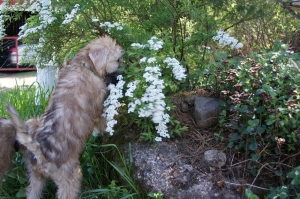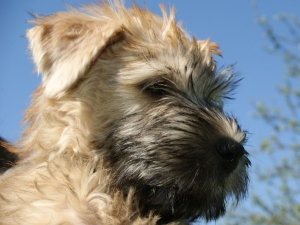 Von Jungfruborg Golden Two Mystery "Marski"
CEASAR BOB BIG-1
27.05.2013 18:09:21
SUPER DAY at Kuopio, International dog Show (26. Mai)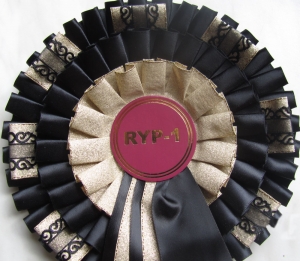 Von Jungfruborg CEASAR CACIB, BOB
and the end of the day
BIG-1!!
Wohoooo!!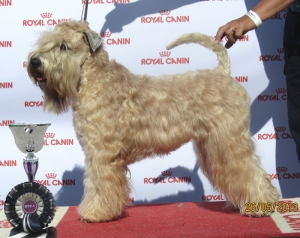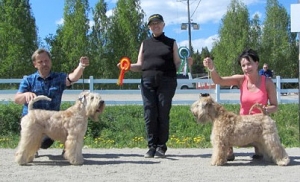 BOB:
Von Jungfruborg Ceasar
BOS:
Veinriver's Lois Lane
Judge: Hassi Assenmacher-Feyel
Hassi has been an All Breeds judge since 1975 and
is registered in the German judging list.
She is a specialist for 63 different breeds and
in 1987 she qualified as an all rounder.
Thank´s to judge Hassi Assenmacher-Feyel from Germany


************
Von Jungfruborg BELLA-DONNA
was BB3, res-CACIB
Dogs Open:
Von Jungfruborg CAMERON
VG (Very Good)
Dogs Champion:
Von Jungfruborg BANDITOS
Excellent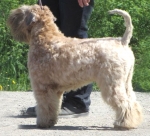 Bitches Intermediate:
Von Jungfruborg GOLDEN LILLIAN

was the first time at show and did it great: VG (very good)
Von Jungfruborg breedergroup got 2. HP
Kasvattajaryhmäsijoitus oli 2 kunniapalkinnolla.
Kiitos kaikille mukanaolleille!
Tämä päivä oli yksi niistä unohtumattomista tähtihetkistä,
joita kasvattajalle ja hänen koiralleen voi tulla!
Uskomaton päivä! Kiitos kaikille teille vehnäystäville,
jotka olitte jakamassa tämän hetken kanssamme.Kiitos All Rounder tuomari Hassi Assenmacher-Feyel
niistä ihastuttavista kommenteista,
jotka annoit kasvateistamme ja
etenkin Ceasarin nostosta terrieriryhmän ykköseksi.
Kiitos!
Puppies 9 weeks
21.05.2013 00:06:06
Puppies are picked up one by one
and move to new families.
We wish you all good luck!
Toivotamme onnea kaikille uusille pentuperheille!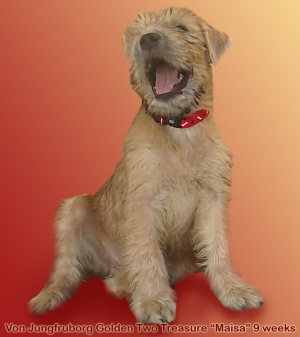 Maisa -tyttönen muutti naapuriin, ihanaa...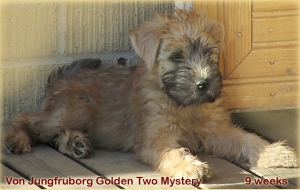 VJ Golden Two Mystery ja VJ Golden To Secret
ovat vielä vaille omaa rakastavaa ja harrastavaa kotia.
These two lovely boy are still looking
they new homes.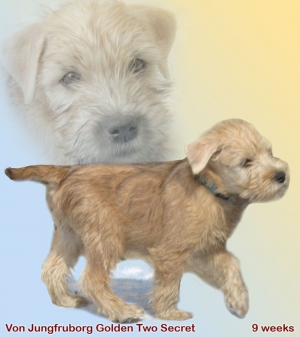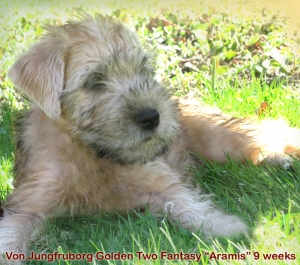 Von Jungfruborg Golden Two Fantasy "Aramis"
hurmuripoika asustelee meillä vielä juhannukseen
ja sitten alkaa pitkä kotimatka.....
Puppies almoust 9 weeks
19.05.2013 23:32:10
Pentuset pian 9 viikkoa.
Ihania kesäpäiviä... ja paljon ulkoilua.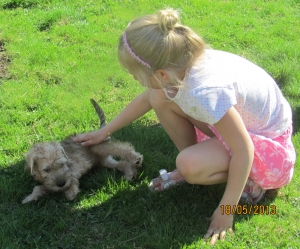 ... ja uusia tuttavuuksia...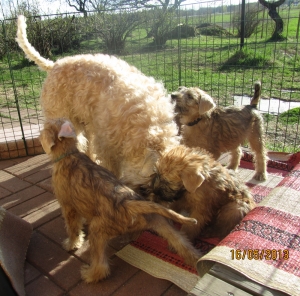 ... ja mamman hellää hoivaa ...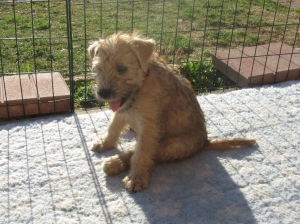 ... mitä lie tyttönen mietii ... kohta omaan kotiin lähtee.
... lokoisia poutapäiviä ...
Have a nice day!
2 komeaa poikaa vielä vapaalla jalalla!
Two promising males still available!
Pappa Norton WW 2013
17.05.2013 10:53:09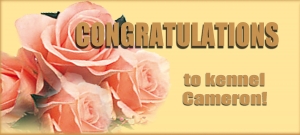 Oure C-litters dad (MultiCh WW-08) Cameron Hunnicut
is now WORLD WINNER 2013
Big hugs and gratulations to Helené and Norton!
You did it again!
Judge: Paula Heikkinen-Lehkonen
TWO PUPPIES left now/2 pentua vielä vapaana
16.05.2013 00:22:47
Två valpar kvar nu!
Two puppies left now!
Kaksi komeaa poikaa vielä vapaana!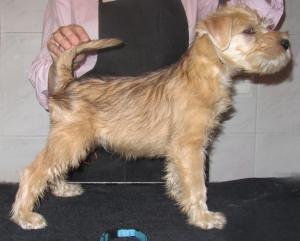 Mr. Von Jungfruborg Golden Two Secret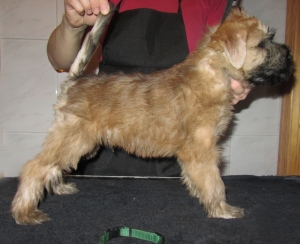 Mr. Von Jungfruborg Golden Two Mystery
Sir: Dog Rose Gold Garibaldo "Tyson"
Dam: Lakkas Fiesta Hos Jungfruborg "Fiesta"