Ulkoilua/ Puppies outdoors
06.05.2013 00:05:25
The air is warmedd up enough that the puppies got out.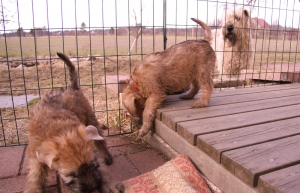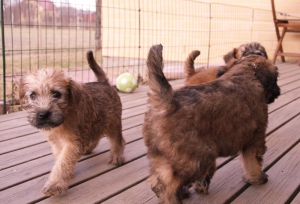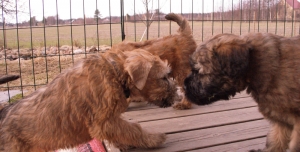 Puppies take a bath/ Pentuset kylvyssä
01.05.2013 23:22:14
Summer can start!
Pups take a bath for the first time.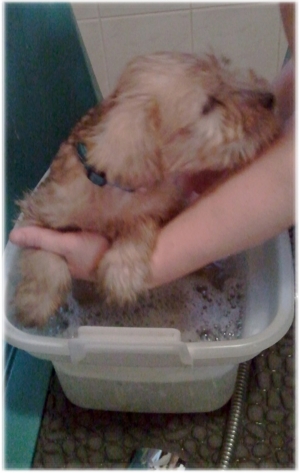 Kesä saakin nyt alkaa!
Pennut pääsivät kylpyyn ensimmäistä kertaa.
Seuraavana onkin sitten trimmauksen vuoro...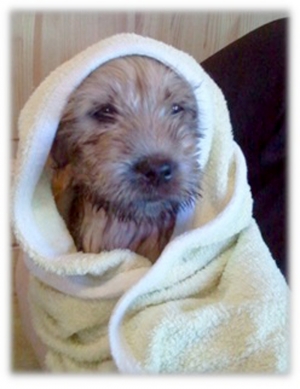 Puppies 6 WEEK/ Pennut 6 viikkoa
30.04.2013 22:44:20
Happy first of May!!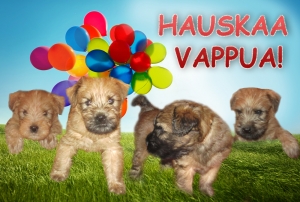 Puppies play and fool around, eat and sleep,
growing and growing.
Contact has been made with other adult dogs
with varying result.
Pennut pelaavat ja leikkivät, syövät ja nukkuvat,
kasvavat ja kasvavat. On otettu kontaktia
muihin aikuisiin koiriin vaihtelevalla menestyksellä.
Lahti Int Show
29.04.2013 19:03:33
Lahdessa oli oikein "näytelmien näytelmä", mutta
meidän
Bella Donna sijoittui PN3:ksi kera vara-cacibin
.
"Tuomarien tuomari" oli ruotsalainen Svante Frisk.
Kiitos Elinalle kuvista!!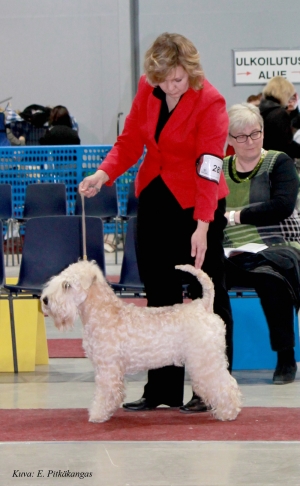 Von Jungfruborg Bella Donna BB3 res-Cacib
at Lahti Int SHOW
Puppies met their father -Tyson
27.04.2013 23:52:30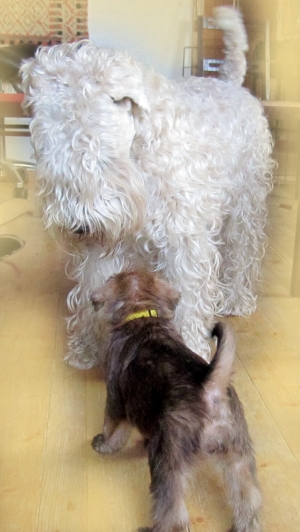 Where did that came???.. Hello daddy!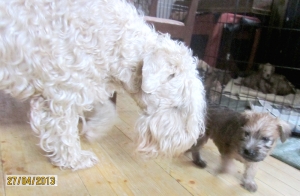 How many?.... eight!! Ou my. Really?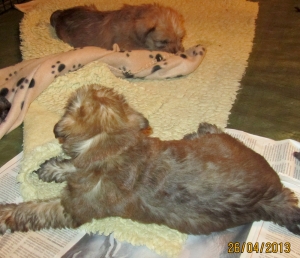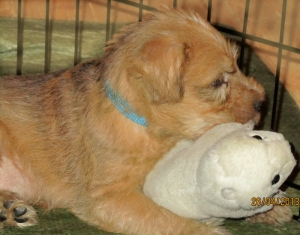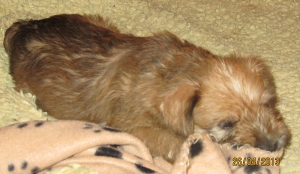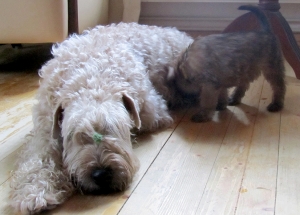 Now it´s your turn -Tyson.

4 MALES STILL AVAILABLE FOR SALE!
the Magic pups
24.04.2013 22:24:23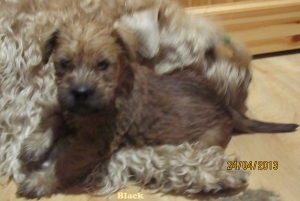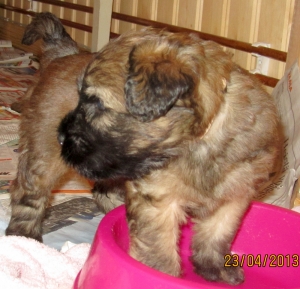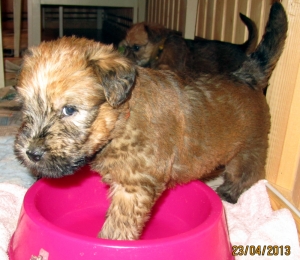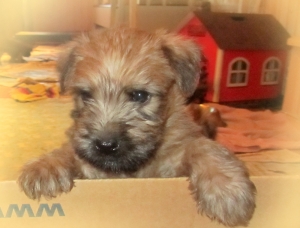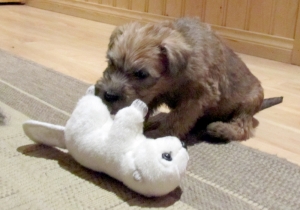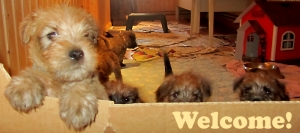 PENNUT 5 vko/ PUPPIES 5 weeks
21.04.2013 23:35:03
Pennut leikkii ja pitävät hauskaa,
ne löytävät uusia asioita joka päivä ja
haluavat yhä enemmän seuraa.
Vapaana 1 tyttö ja 4 poikaa!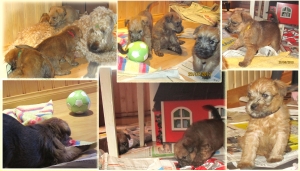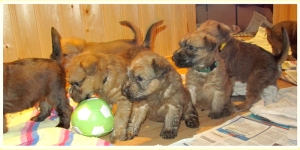 "Laihian Lujan" -futistiimi.
Puppies play and have fun, discover new things every day.
They want more and more company. And they are so cute.
One female and 4 males still available for sale!
New house
16.04.2013 22:15:28
Tämmönen talo.
Kukahan päästi koiran ulos?
Who let the dog out?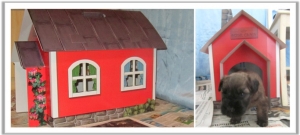 PENNUT 4vko/ PUPPIES 4 WEEKS
15.04.2013 21:42:40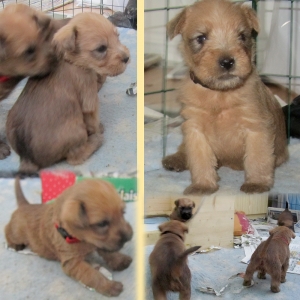 Nyt alkaa tapahtua! Tasapaino on parantunut ja on helpompi
hahmottaa "iso maailma" kun apuna on silmät, korvat ja suu.
Ne ovat alkaneet olemaan sosiaalisempia ja leikkivät toistensa kanssa.
Pentu huoneessa vauhti vain kiihtyy.
Emo on vielä ykkönen kaikesta, koska häneltä saa maailman parasta ruokaa.
Penntujen uudet perheet ovat matkalla tänne tutustumaan meihin ja pentuihin.
~~~~~~~~~~~~~~~~~~~~~~~~~~~~~~~~~~~~~~
Now Things are happening! The balance is improving and
it´s easier to discover "the big world" with help of the eyes, ears and mouth.
They are also starting to be social and to play with each other.
It´s full speed in the puppy room.. Mum is still the best,
she has all the good food.
Puppyes new families are on the way here to visit us and the puppies.
VAASA INT DAISY BOS/VSP
14.04.2013 16:37:56
VAASA KV /INT 14042013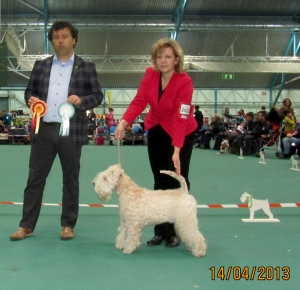 Judge: Doedijns Rony, Netherlands
6 males + 12 females
We had a very great day in Vaasa Int Show

VON JUNGFRUBORG BELLA DONNA "Daisy" PN1, CACIB, VSP
BB1, CACIB, BOS

(sir: Veinriver´s Legolas dam: Von Jungfruborg Arabella)
VON JUNGFRUBORG CARAMEL "Candy" PN2, VARACACIB
BB2, res-CACIB
(sir: Cameron Hunnicut dam: Musca-Rosan Tracy)


VON JUNGFRUBORG CLEOPATRA "Hulda" ERI, vak3

Excellent, champion competition class 3
Mukava päivä, mukavassa seurassa
ja uusia tuttavuuksiakin tuli.